Techno Industry
is the specialist of design and manufacturing of spring support with Auxiliary items and which are generally used at Power Plant, Petrochemical Plant, Fertilizers Plant, Steel Plant, Big Power Plant, Big Textile Mill, Chemical Plant, Refinery Plant and also in connection with Big Boilers of hot and cold pipe line with attachment of Boiler / Vessel.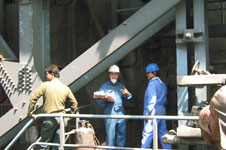 The applications of such type Spring Support are provided for hot load and cold load system of pipe line suspension. These spring supports are manufacturing since 1996. Also we have our own Design Department, Quality System Department, Technical Department and Sales & Service Department by well experienced personnel with modern computerized system.
Techno Industry
is the specialist in the field of design and manufacture of Pipe Suspension Equipment. Our service includes the supply of wide range of standard pipe support components. Maintain international standard and we have also achieved DNV ISO 9001:2000 certificate in this year.
After intensive research and development work on hangers & supports for various range of temperature, pressure etc. we are able to meet the individual customer's requirements. Today we are among the top supplier in this field, undertaking planning, designing and manufacturing of all sorts of piping supports. Our product range & service covers a vast area, which are given in a separate sheet in this catalogue.
Experienced designers of our engineering departments are able to give practical advice and assistance in the design of pipe support system. A numbers of special designs have been developed indigenously to solve unique customer problem. We work on various engineering software that includes pipe stress analysis, determination of pipe hanger support, drafting etc. in the era of information technology, we are also equipped with the tools of modern technology to stay ahead in today's competitive market.
All the raw materials are subject to a great deal of quality control prior to manufacture by our Quality Assurance Department and all the products are manufactured under a scientific, statistical quality control system, which assures that the finished product, will conform to pre-determined standards highest in the industry.
Our personnel are committed to respond quickly to customer requirements & service needs on both standard items & specialized application.
Activities in Brief
The company was established in the year 1996 and since then to now, the company has been acquainted as one of the leading manufacturer of the following items:

1. VARIABLE LOAD EFFORT SPRING SUPPORT.
2. CONSTANT LOAD EFFORT SPRING SUPPORT.
3. RIGID PIPE HANGER.
4. RIGID BASE TYPE PIPE SUPPORT WITH & WITHOUT PIPE CLAMP.
5. SPRING SWAY BRACE.
6. ANCILLARY EQUIPMENTS OF PIPING.
7. BARE SPRINGS HELICAL, COMPRESSION & EXTENSION TYPE.
8. BELEVELLED / DISC SPRING.
9. ASSOCIATED STEEL WORK FABRICATION.

The design & detail of large / small order from customer can be handled in our engineering department by experienced designers who are capable of giving practical advised with active assistance in the design of pipe support system. We also offer complete pipe support overall site survey including analysis of new or existing pipe system.